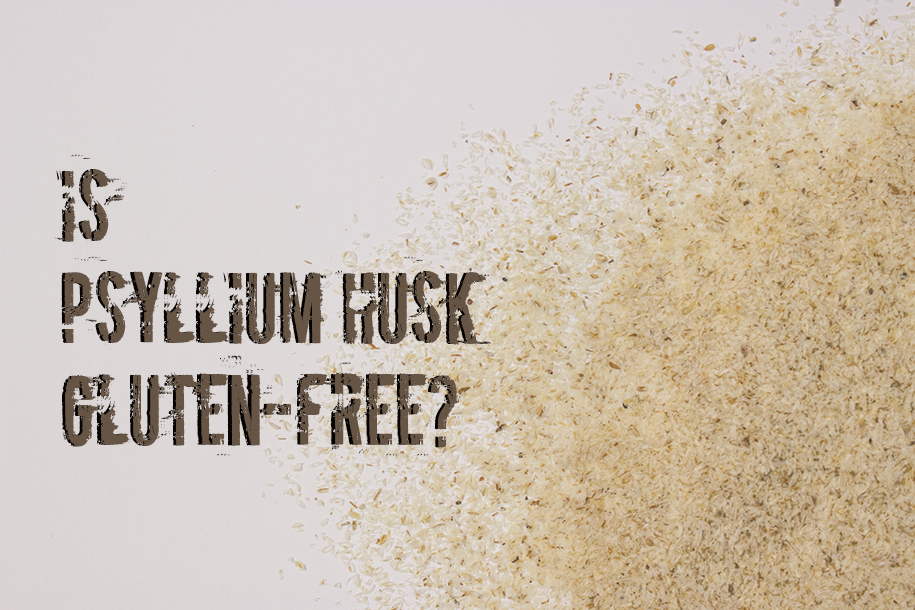 The short answer is yes, but to better understand what that means, let's take a deeper look.
Some definitions…   
What is Gluten?
   Gluten is a protein found in wheat, barley and rye which in turn is often found in pasta, bread, cakes, and breakfast cereal.
Whole Grain:
   Whole grain does not mean wheat or that it contains gluten…  In fact, true grains are edible seeds of certain grasses and for a food to be considered "whole grain," it must contain 100% of the original seed.  Amaranth, quinoa, and buckwheat are considered whole grains.
In-soluble Fiber:
Wheat bran, vegetables, and whole grains help to promote digestion by adding bulk to the stool and help it move quickly through the stomach/intestines. 
Soluble Fiber:
Oat bran, barley, nuts, seeds, beans, lentils, peas, and some fruits/vegetables when digested attract water and turn into a gel-like substance. 
Psyllium husk comes from the small seeds of the Plantago Ovata plant.  The small shrub-like plant can produce up to 15,000 seeds at a time.   The husk is milled from the seed and is a rich soluble fiber, that has many benefits and uses.  Since 
psyllium husk
 is classified as a seed, it contains no gluten in its natural state.
Gluten-Free and your health
According the 
Celiac Disease Foundation
, gluten-free living appeals to about 30 percent of American adults, though it seems to still be widely misunderstood, .4 percent of people have a doctor-diagnosed wheat allergy.   When people with celiac disease eat gluten it prompts an immune system attack on the small intestine causing diarrhea and/or bloating.    The misconception that gluten-free is healthier has led to avoidance of whole grains which is an important source of fiber, micronutrients, and 
prebiotics
. 
Read labels
As previously stated plain psyllium husk is naturally gluten-free.  However some companies will add wheat flour as a binding agent. So the best way to be completely sure that you are getting 100% psyllium husk is to read the ingredients on the product's Nutrition/Supplement Facts panel.  
 Fun Fact
This fab fiber is often used in gluten-free baking  (Check out

 

this

 

recipe for gluten-free cookies)
 Sources:
https://www.broadsheet.com.au/national/food-and-drink/article/gluten-free-it-me
http://www.livestrong.com/article/288048-psyllium-husk-gluten/
http://healthyeating.sfgate.com/psyllium-husk-whole-grain-11329.html
https://medlineplus.gov/ency/article/002136.htm
https://celiac.org/blog/2014/02/9-things-you-should-know-before-going-gluten-free/