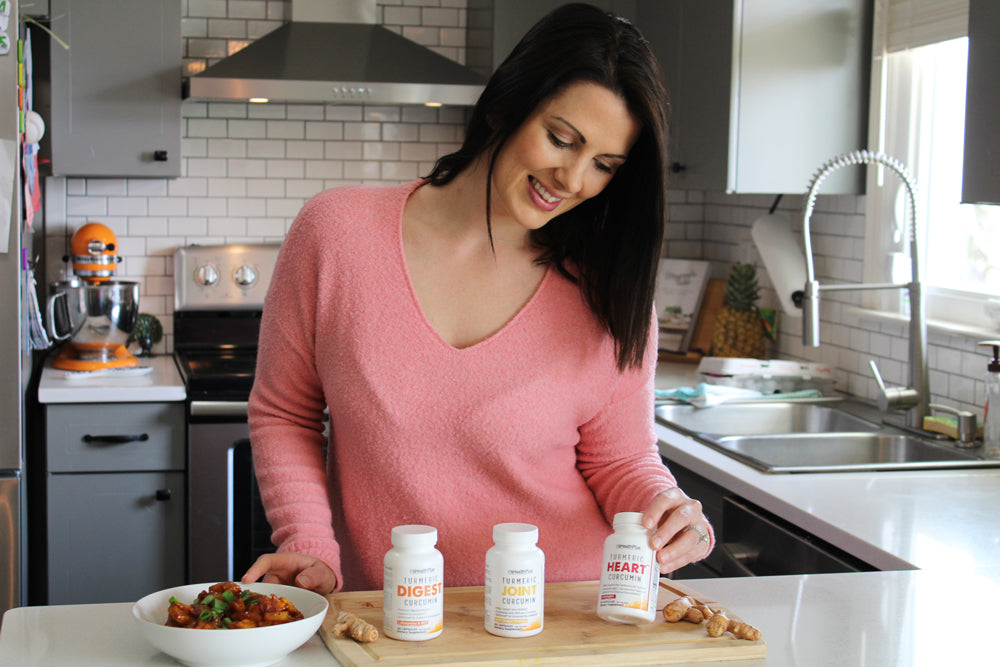 One thing is for certain, maintaining a healthy lifestyle is a top priority for me. With my rare, and at times complicated, medical condition, I am always finding ways to stay on top of my health and find natural ways to care for my body. I am an active mom of two toddler girls and I need to keep up with their everyday activities. This means I need to stay in great shape. As I start to age, I want to be sure my body keeps up. I have found a beneficial product line that I love. The main component is Turmeric which I've used in my kitchen for years for its health benefits.
Turmeric is a spice that has a warm bitter taste. It is usually used in a lot of foods to add flavor or color. The root of it is used for medicine because it contains a chemical called 
curcumin
 which is used for many ailments. It is believed the chemical curcumin 
decreases swelling
 and inflammation and may be beneficial in many medical conditions of the human body. For me and my Hemiplegic Migraine condition this is key. When there is inflammation in my brain, I tend to have more episodes then when my brain and body have little to no inflammation. I started to add Turmeric to my tea and my meals for its anti-
inflammatory benefits
. I like to find the best and most natural ways to stay as healthy as I can. This is what led me to find the 
Health Plus product line

.
​
​
Health Plus Inc.
has a Turmeric line that is awesome for maintaining a healthy lifestyle. The digest, heart, and joint capsules are all awesome in their own unique ways. They are formulated with the purest form of
turmeric root powder
and
root extract
to help assist the body in its proper function. I think my favorite product is the digest. I just love how it makes my tummy feel.
Gut absorption
is so important for my migraines, or really anyone needing gut support. This product speaks volumes for helping bad bacteria and toxins from passing through your gut lining. Anything that keeps inflammation down and good bacteria in, is a great product for me. I also love their Joint and Heart products as well. As a busy mom of two toddlers I need to stay on top of my health, and both keep me in check. Turmeric is an awesome
antioxidant
, along with the other ingredients, this little Heart bottle is wonderful in aiding in heart health. As far as my joints are concerned, they haven't been happier. Since using my Joint product line, I have noticed less discomfort and more pep in my step.
Turmeric
and the
MSM
are the powerful
anti-inflammatory
team keeping me an active mommy!
Since I am on this Turmeric kick, I decided to make a fun family recipe that even my picky toddlers would love! I am all about easy and quick recipes and this one is a keeper for sure! For the recipe I added fresh ground Turmeric and for myself I added a capsule of Digest to my finished product at the end. If you use your imagination, it's amazing to see how easy it is to get healthy. I hope your family enjoys this recipe as much as ours did! Enjoy
Recipe for Turmeric Honey Glazed Chicken