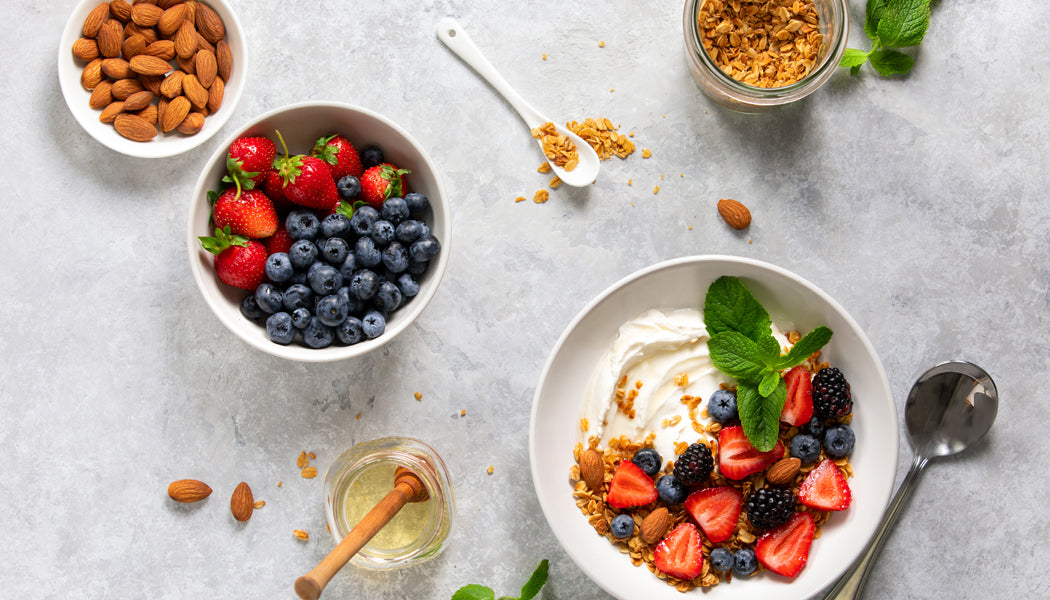 Feeling a little down, anxious or stressed?  Instead of reaching for a bag of potato chips or bowl of ice cream, try snacking on a handful of strawberries or some mixed nuts.  You'll notice a difference. 
Although our favorite comfort food may help us feel better in the moment, science tells us that our moods will improve over the long term by adding specific nutrients to our diet. Research suggests that certain foods can lift our spirits by producing substances called neurotransmitters,  chemical messengers that regulate various body functions including appetite, heart rate, digestion and mood.
Think of neurotransmitters as the communication switchboard between the brain and nervous system.  They are continuously sending, receiving and processing signals so the body can function and remain in balance.   According to Dr. Deanna Minich, many neurotransmitters are synthesized in the gut as well as the brain, including dopamine, GABA, serotonin, and endocannabinoids. In fact, roughly 95% of serotonin in the body comes from the gut contributing to feelings of wellbeing and happiness. Consequently, certain food choices ensure healthy signals are released by neurotransmitters.
Incorporating foods with mood-boosting nutrients into a diet is easy to do.  Start by adding more servings of fruits and vegetables to every meal.  Oranges, lemons, bananas, and berries, as well as vegetables like broccoli, spinach, zucchini, red peppers and carrots, are  rich in B complex vitamins, vitamin C, iron and magnesium.  These key vitamins and minerals help reduce anxiety and depression.
Snack smart with a handful of walnuts, brazil nuts or a seed rich granola bar between meals.  Not only will they curb hunger but they also provide mood-boosting minerals like selenium, magnesium, and zinc to help with anxiety.  Interestingly, studies have shown that people with zinc deficiency are prone to major depression suggesting its potential importance in affecting mood disorders.
Explore new protein options.  Try cooking wild salmon for dinner once a week.  Salmon, along with herring and sardines, are high in healthy fats, like Omega 3 fatty acids.  Besides being good for your heart, Omega-3 fatty acids are effective for improving depression symptoms in both adults and children.
For dessert, our old comfort food friend, chocolate, still makes the mood boosting list.  Eaten in moderation, quality dark chocolate can act as a pick me up like caffeine and improve brain function.[1]  Plus it has plenty of magnesium, zinc and selenium to help calm the nerves.  Unfortunately, white and milk chocolate do not have the same benefits since they tend to have a higher sugar content.
Lastly, making changes to your normal diet can affect your digestion.  To maintain gut health, add a natural fiber like psyllium or beans as well as yogurt or kombucha for probiotic support.
Breakfast Recipe - Yogurt, Fruit and Nuts
A quick, nutritious way to begin the day!  Yogurt is an excellent source of protein and calcium.  Blueberries contain manganese, vitamin C and K1 while walnuts are rich in Omega 3 fatty acids, folic acid, vitamins B6 and E.
Ingredients
½ cup of nonfat plain Greek yogurt
1 tsp. of honey or agave (optional)
½ cup of fresh blueberries
1 tbsp. of chopped walnuts
Mix yogurt and sweetner of choice in a bowl
Add berries and nuts and fold into mix
Easy Dinner Recipe - Baked Salmon with Lentils
Simple baked salmon served with deliciously spiced lentils.  To accompany this meal, serve steamed spinach with a splash of lemon. An easy to prepare and rich in protein, Omega 3 fatty acids, fiber, vitamins A, C, K1, folic acid (vitamin B9), iron and calcium
Ingredients for Salmon & Lentils
1 Tbsp. + 2 tsp. olive oil, divided
2 salmon filets
Half an onion, diced
2 cups cooked lentils
1 medium carrot, peeled and diced
1/2 tsp. ground cumin
1/4 tsp. ground coriander
1/4 tsp. black pepper
1/8 tsp. salt
1 lemon, quartered
¼ cup fresh parsley, chopped (optional)
Preheat oven to 450 degrees. Prepare a baking sheet with aluminum foil, adding light amount of oil or cooking spray to foil.
Add salmon filets on the baking sheet, and brush each with about 1 teaspoon of the oil. Season with salt and black pepper. Bake for 7-9 minutes, or until cooked through - thickness of your salmon will determine cooking time.
With salmon cooking, heat 1 tablespoon of oil in a medium skillet over medium-high heat. Add diced onion and carrot and cook over medium heat for 5 minutes until soft, stirring regularly.  If onions begin to burn, reduce heat.  Add the lentils and sprinkle in cumin, coriander, black pepper and salt, and stir to combine. Cook for an additional 2 minutes, or until the lentils are heated through. Remove from heat and sprinkle with the fresh parsley, if using.
For each plate, spoon ½ of the lentil/vegetable mixture on a plate topped with the fresh salmon.  Squeeze with the juice from the lemons to taste.
SOURCES:
https://www.sciencedirect.com/science/article/abs/pii/S0195666316300459
https://www.ncbi.nlm.nih.gov/pubmed/20048020
https://www.medicalnewstoday.com/articles/326649
https://www.deannaminich.com/eating-for-your-neurotransmitters/
https://www.ncbi.nlm.nih.gov/pmc/articles/PMC2738337/
https://www.ncbi.nlm.nih.gov/pubmed/20689416
https://www.ncbi.nlm.nih.gov/pubmed/19499625
https://www.sciencedirect.com/science/article/abs/pii/S0195666316300459